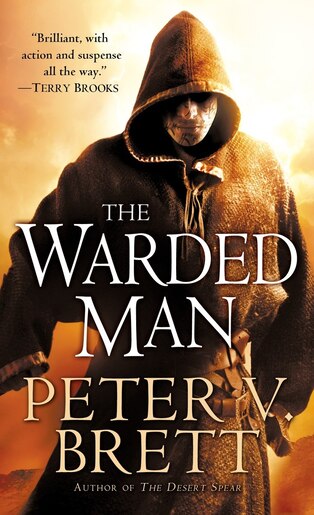 A rather brief review since I read the book very nearly 5 years ago.
I came to this book with no expectations, finding it on the shelves in my house. Both sons recommended it, but that's not always a recommendation!
There are fantasy books that are all about the plot, fantasy books that are all about the characters, and fantasy books that are all about the world-building. This one manages to be all about all of that.
The 'big idea' is the demons and it's a good one. I'd not seen demons done this way and the partitioning of them into the night, combined with the system of wards, really works to create a very interesting dynamic.
The wards themselves are not only interesting in the sense of a magic system but also in a meta-sense as they are a marketeer's dream. They provide for the fandom almost limitless fuel for fan art, cos play, and branding (not in the literal sense). I've seen a line of wards as jewelry, warding as body art ... it goes on.
The main character (first introduce, driving force) is Arlen and although he's a 'farm-boy-rises-to-hero' he manages to overcome the trope and be an interesting character, primarily through his combination inventiveness, down-to-earth morality, and bravery. The other point-of-view characters are also engaging and offer complete a diverse set of windows onto the world Brett's made for us.
Arlen's chosen vocation involves a lot of traveling which is great for covering the map and colouring in the detail.
The plot works too. Ostensibly the book is about defeating (or surviving) the demon threat, and it has more of that in this first book than the later ones, but even here the politics and character interactions are a major focus. Brett gives us a complex world full of interesting people, and the demons act as a constant source of pressure to drive the characters to extremes.
In many ways The Warded Man is old school fantasy, but it's written in a modern style that I found refreshing. A really good read.
You can go 'like' my review on Goodreads if you like!
An index of my reviews.