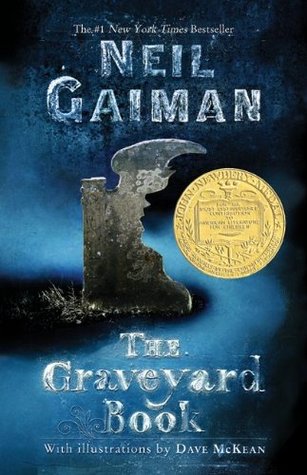 I read this to Celyn but the 5* are from both of us. I think I probably enjoyed it more than she did in fact.
It's a fine book. I can see why it's done so well. The story is well structured, the brutal opening providing an orphan, a mystery, and an ongoing threat. Thereafter the book slowly cycles back around to its beginning and in the mean time raises our young Bod, equipping him with the skills to deal with his problem.
Bod's life in the graveyard is very interesting, with him learning various bits of magic and magical lore from the dead. With hundreds of ghosts spanning several thousand years there's all manner of opportunity for interest and I enjoyed Bod's interactions with them.
We watch Bod grow up, be educated, and make ventures into the living world. The whole thing crept up on me. I was gently entertained throughout but by the end I found myself really caring about the story.
The end was really quite emotional in that Toy Story III sort of 'leaving the nest' way that punches parents in the gut. I think Celyn got a bit irritated as I kept pausing to gather myself to read the next line.
Anyway. A curious and highly entertaining book thick with inventiveness and written with deceptive skill.